Greetings, travelers! My partner and I visited Iceland for our honeymoon between October 30th and November 7th, 2021. We had a spectacular time packed full of adventure, and I'd like to share with you our itinerary, some photos, cost details, a packing list, and some travel tips.
I hope that this information helps someone who is interested in visiting Iceland, especially during the off-peak season like November. I'll start here with a summary of what we booked, then go into detail.
Trip Summary & Map
We customized and booked this "7 Day Northern Lights Self Drive Tour" through Guide to Iceland. It cost $3,733 for two people.

I made the following selections to customize that tour:

Travel dates: Nov 1 – Nov 7
Accommodation: Comfort
Car: Comfort 4WD Automatic
Blue Lagoon: Skip the Blue Lagoon (we made our own Blue Lagoon reservations)
Day 2: Sightseeing
Day 3: Víðgelmir lava cave
Day 4: Snowmobiling on Mýrdalsjökull
Day 5: Glacier Hiking in Skaftafell
Day 6: Ice cave
Add Dinners: Yes

After booking, I emailed Guide to Iceland to request an additional day with the rental car at the beginning of our trip, which corresponded to October 31. Guide to Iceland contacted MyCar, our car rental company, who added that additional day to our booking – no problem. This cost us an additional $191.

I priced out the difference between booking this tour and booking each customized tour stop individually. The difference in cost was negligible – less than $10.
Guide to Iceland did fantastic work to make our trip quite easy. I highly recommend this particular tour, and imagine other customizable "self-drive tours" are just as comprehensive and smooth.

We spent November 1st – which corresponded to "Day 2: Sightseeing" in the above tour" – on this "9 Hour Horse Riding & Hiking Tour", which cost $321 for two people.
A note about food: Liv has a gluten allergy, and I am lactose intolerant. Our breakfasts and dinners were easy: Guide to Iceland had already ensured that our paid-for breakfasts and dinners could accommodate our dietary restrictions. Finding lunches which could accommodate our dietary restrictions was more challenging, as online menus often didn't include allergens and we weren't sure how easy it'd be for kitchens to modify their dishes. We managed just fine, though, with a large cache of lunchtime snacks!
Every morning, we had a breakfast buffet at the hotel. Breakfast buffets seem to be very common in Iceland.
The low angle of the sun during daylight hours made for long shadows and gorgeous light. It was like golden hour lasted for 8 hours.
Below is a custom Google map which details all of the places we visited. The custom map is organized by day in the same way the words below are organized. Each day's destinations are uniquely colored in the order of the color of the rainbow.
8-Day Iceland Trip Cost Breakdown
The costs below reflect the cost of the trip for both Liv and myself (2 people).
The Photographer's Packing List for Iceland in Early November
Here's a list of what I actually used on the trip – I packed some clothes that I never ended up wearing. If I were packing for the same trip again, the items below are all that I would bring.
Things I Wore on the Airplane
Moisture-wicking T-Shirt
Heavy, Waterproof Coat (with winter gloves in pockets)
Jeans & Belt
Underwear
Warm socks
Hiking boots
Phone
Wallet
Travel wallet
Passport
Vaccine card
Camera battery charger
SD Card
128GB Compact Flash Express Card
128GB SD Card
3-stop Soft X4 GND Filter & Mount
A real book
Sony WH1000XM3 Headphones
Phone charger & cables
Pen
Water bottle
Lip balm
Day 0 – Oct. 30 – Overnight Flight from IAD to KEF
We booked an overnight Icelandair flight between Washington Dulles (IAD) to Keflavik (KEF) about two months in advance. One round-trip, economy-class ticket on flight FI644 cost $675; both tickets cost $1,350. Our flight left at 8:35pm Eastern Daylight Time on October 30th, and arrived in Iceland at 06:30 GMT on October 31st.
If you are comfortable being very tired on Day 1 and potentially building time into your schedule to take a nap, this is a reasonable flight. In most cases, I would not prefer to take an overnight flight.
One benefit of taking an overnight flight is the possibility to see the Northern Lights from the plane. Luckily, the large solar storm the previous day caused quite the show: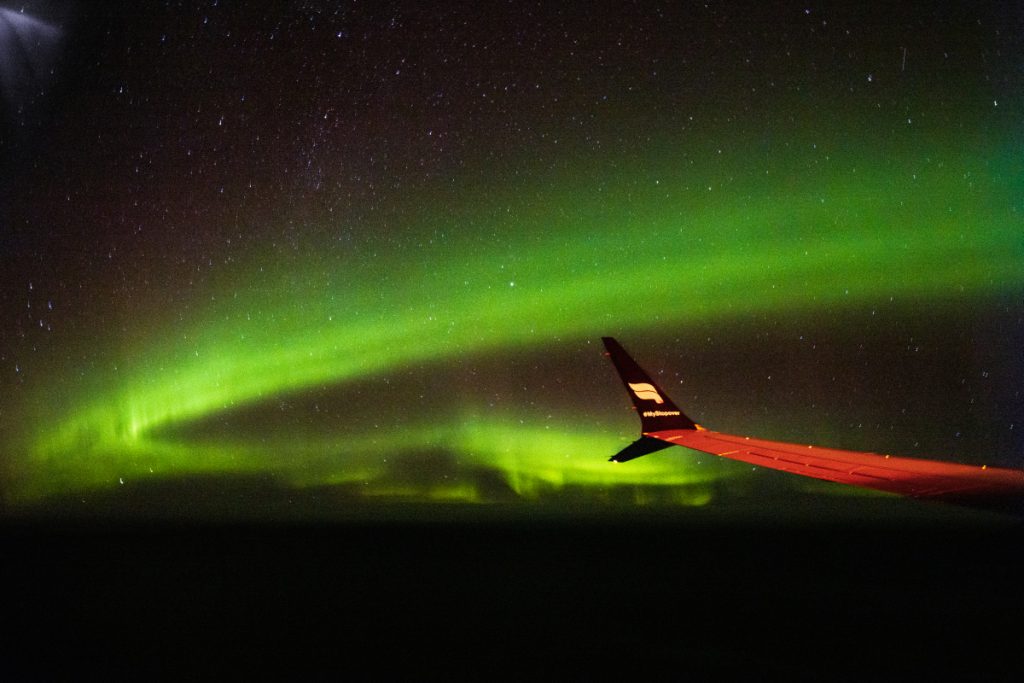 Day 1 – Oct. 31 – Blue Lagoon & Reykjavik
After arriving at Keflavik Airport and swiftly moving through border control, we waited about 30 minutes until 07:20 for the hourly MyCar shuttle to arrive and take us to the rental car office. While there exists a regular shuttle which services several rental car companies' offices, MyCar's offices are not serviced by this shuttle. We had to correspond with MyCar directly to determine a shuttle pick-up time.
At the MyCar office, we picked up the keys to a white 2021 Toyota RAV4 Hybrid with snow tires and a Huawei 4G WiFi hotspot. The hotspot was included in the cost of the 7-day tour. The car performed beautifully throughout our trip. I was especially impressed with its handling, turning radius, and 7.4L/100km (31.5 MPG) fuel economy.
We then drove towards Blue Lagoon Iceland, which is quite close to the airport. Along the way, we pulled over and napped for about an hour in the car. Iceland's roads are very conducive to roadside naps.
A month before our trip, we booked a 10:00 "Premium Admission" ticket to the Blue Lagoon. For $19 more than the standard "Comfort" admission ticket, the "Premium" ticket includes three facemasks (instead of one), flip-flops, and a bathrobe. I'd say the additional cost is worth it – especially for the robe, which kept me warm when I was taking photos out of the water.
We spent four hours (10:00 – 14:00) enjoying the Blue Lagoon geothermal baths, which felt incredible.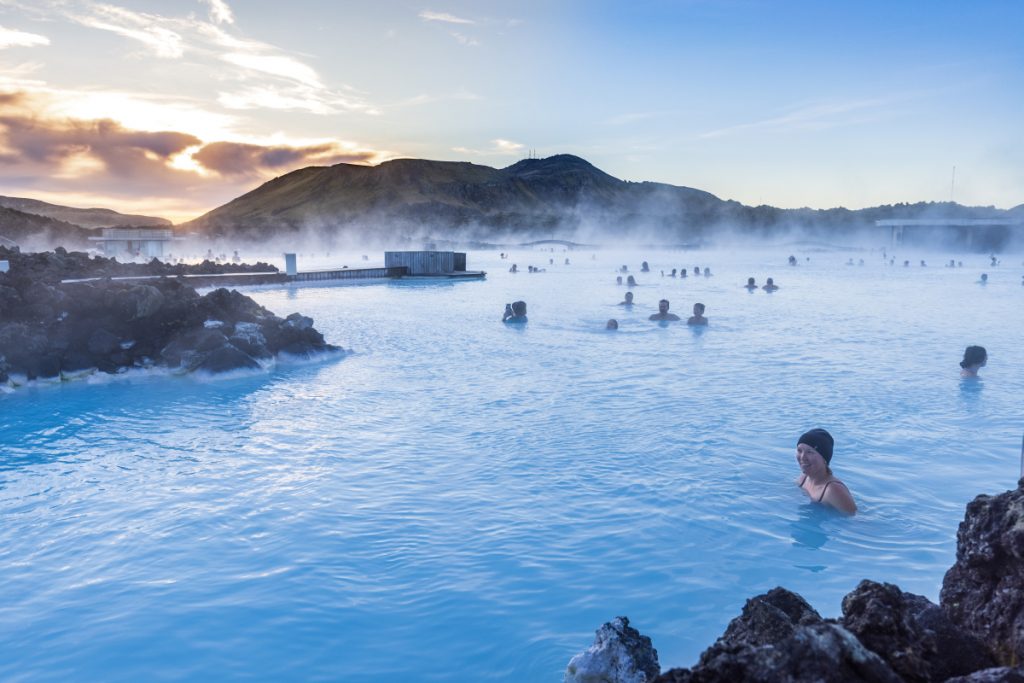 A note: I recently learned that I have fairly sensitive skin. After our trip to the Blue Lagoon, I became quite itchy and developed an extremely itchy rash on my upper legs, torso, my neck, and most of my arms. While I'm not positive about the cause of this rash – whether it was the hot, silica-filled Lagoon water, the cold, windy, dry air, or something completely unrelated – I wanted to mention this in case other readers have sensitive skin. The itch persisted throughout the duration of our trip, and is still present as I write this post, over 1 week later. I have a doctor's appointment soon, which will hopefully root out the cause of my itch. 🤞
At 15:00, we arrived at our first night's accommodations: Skuggi Hotel in Reykjavik. Our first impressions of our room were very positive: A decently-sized room, comfortable beds, hot shower, great location, friendly employees. We came to love the double-bed style of room, which would be the style of all of our rooms throughout our stay. The double beds meant that Liv and I didn't fight over blankets, nor did we wake each other up with tossing or turning. Yay!
At 18:00, after a nap, we braved the wind and went out to dinner at Reykjavik Chips, a local indoor fast-food joint which served generous (and expensive) portions of French fries and dipping sauce. We both got fries with garlic sauce, and I got fish to go with my chips. The fries and sauce were delicious; the fish was just OK.
Before turning in for the night, we stopped by an Extra supermarket for some snacks. Overall – a slow day, necessary for travel recovery.
Day 2 – Nov. 01 – Horseback Riding and Reykjadalur Hike
Liv was very excited about horseback riding in Iceland, so we booked this "9 Hour Horse Riding & Hiking Tour" separate from our 7-Day Self-Driving tour. After a yummy breakfast buffet at Skuggi Hotel, a bus picked us (and a dozen Swedish tourists) up at 08:30.
The hour-long bus ride took us to Eldhestar, where we spent 1.5 hours on horseback, riding a big, flat loop around a farm. The highlights of the ride included a river crossing and experiencing the "tölt" of the horse, which is a gait unique to Icelandic horses. The ride itself did not sport much by way of scenery (although the flat fields of the area are spectacular in their own right), but I didn't mind, this being my first experience on horseback.
At around 11:30, we ate lunch at the adjacent Hótel Eldhestar, which consisted of tomato soup, bread, cheese, and various lunchmeats. This lunch was included in the cost of our tour.
After lunch, we took a short bus ride to the Reykjadalur Valley trailhead, where we began our 5-mile hike to the thermal river at 12:30. We spent about 45 minutes enjoying the lukewarm water of the fast-flowing thermal river among the company of two British folks before changing back into our hiking clothes (with a few cold-induced squeals!) and returning back to the bus.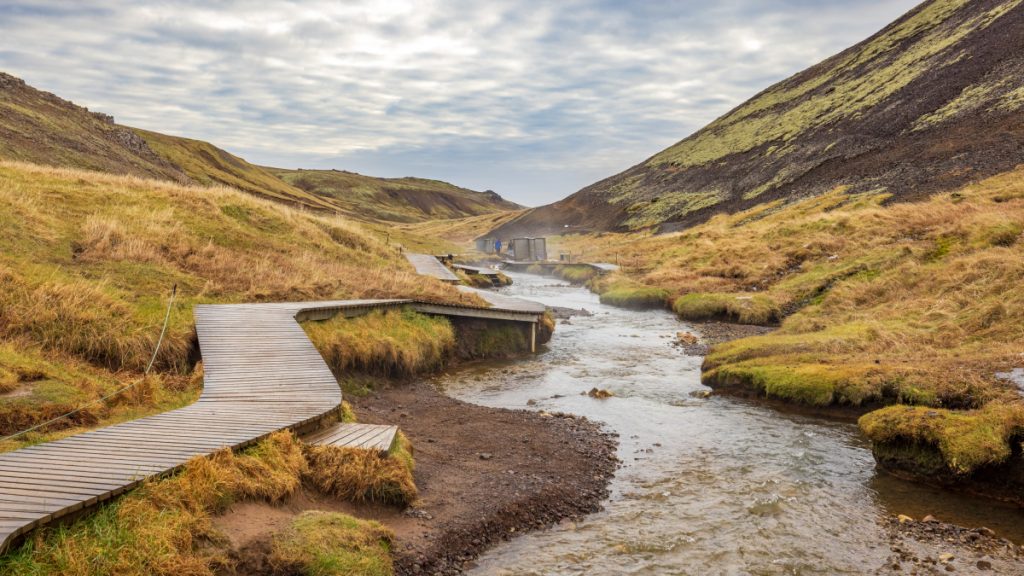 We took a short tea-and-cake break at Hotel Eldhestar before taking the bus back to Skuggi Hotel, where we arrived at 16:45.
Then came our first real taste of Icelandic food: Deliciously-prepared cauliflower, steak, and a raspberry-and-chocolate dessert to die for. We ravenously walked to our 20:00 reservation at Matarkjallarinn – Foodcellar. The reservation was prepared by Guide to Iceland, so we didn't have to worry about dinner selection or paying for anything besides drinks.
We returned to Skuggi Hotel for a second night of much-needed rest.
Day 3 – Nov. 02 – Snæfellsjökull National Park and Many Other Landmarks!
On this day, we drove about 300km (186mi) and visited some of the most beautiful natural landmarks I've ever seen.
But before embarking on that journey: We found a gluten-free bakery in Reykjavik, and purchased several delicious baked goods. Cooking Harmony is a dedicated gluten-free facility which sells gluten-and-lactose-free baked goods, including a phenomenal apple pie. Highly recommended!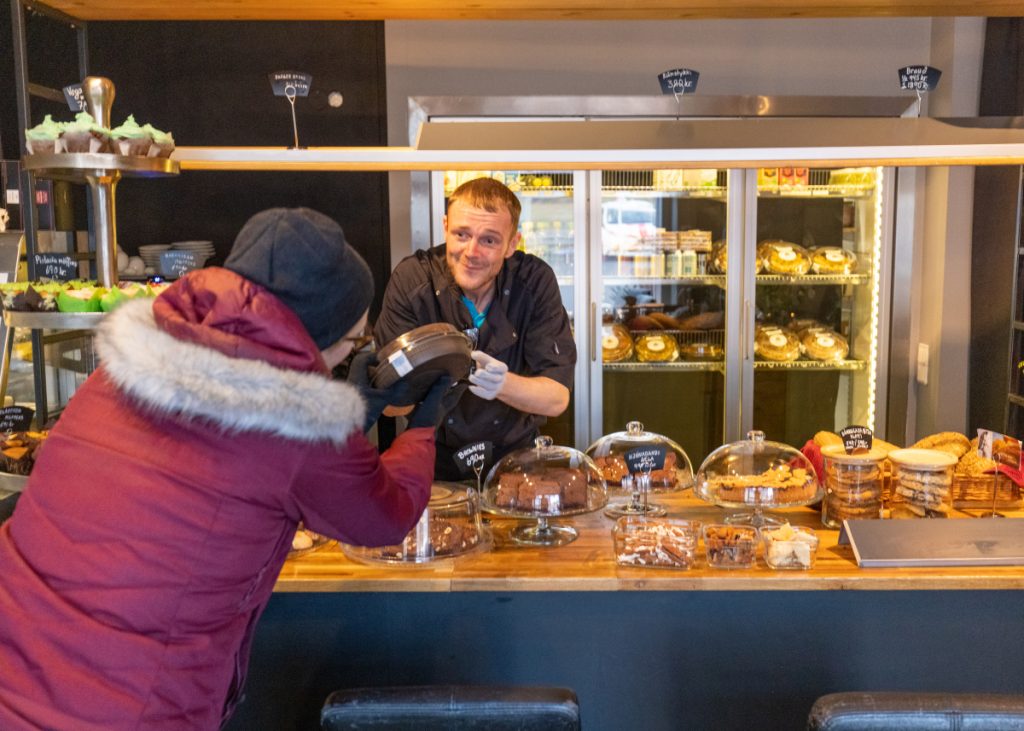 A Note About Refueling your Vehicle in Iceland
Iceland's roads are peppered with many fuel pumps which do not feature any facilities or employees. You may be driving along and see two or four well-lit, free-standing fuel pumps, without any weather canopy. These well-placed fuel pumps ensure that you will not experience vehicle range anxiety during drives along Iceland's major roads. However, no employees or facilities also means that you can only pay by credit card or, sometimes, NFC (contactless) payments.
Some fuel pumps – including those operated by "N1", like this one, only accept chip-and-PIN credit card transactions. Most American credit cards do not support chip-and-PIN transactions. Make sure you figure whether your credit card or debit card supports chip-and-PIN transactions before you visit Iceland.
Thankfully, when we needed to fill up on fuel, another American traveler (who had previously set up a PIN on his credit card, a Chase Sapphire Reserve) filled up our tank of gas in exchange for some cash. When I called Chase to set up a PIN for CC transactions with my Sapphire Reserve, three separate customer service representatives told me that the card does not support chip-and-PIN transactions for purchases. This is confusing, since I watched another Sapphire Reserve customer use his credit card to fill up his tank with gas. I still don't fully understand what happened there – maybe he was using his credit card as a debit card to get a cash advance to pay for the fuel?
Anyway, I later learned that I could use my Ally debit card at gas stations when my credit card didn't work. Whew.
The Landmarks
Here are all of the landmarks we visited on Day 3 of our trip: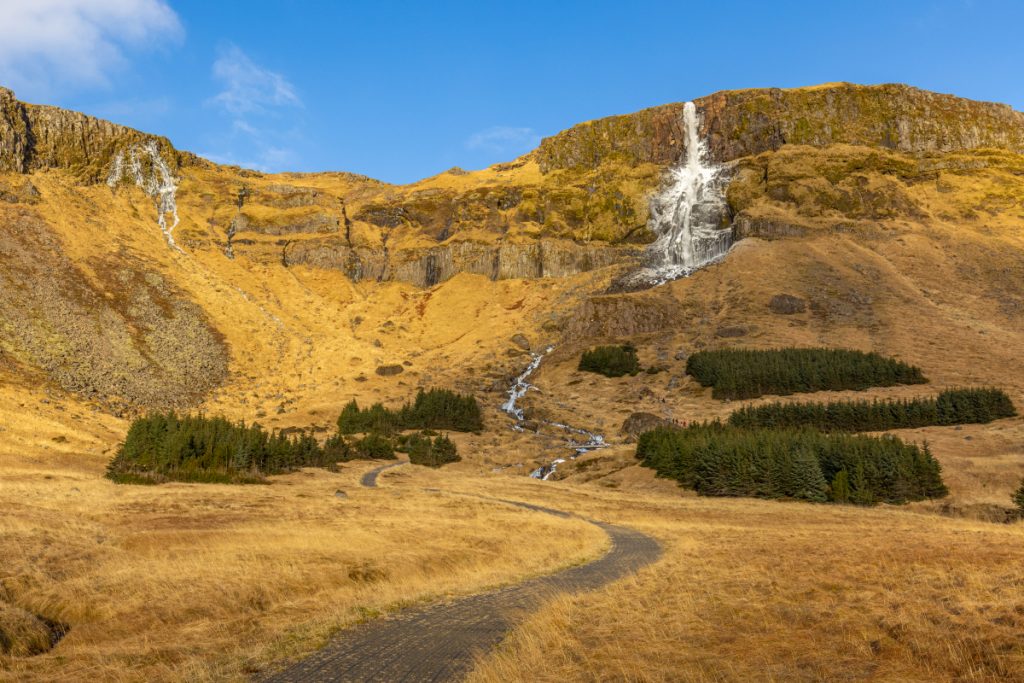 A quick but steep rock scramble leads hikers to the base of Bjarnarfoss, one of the most beautiful waterfalls I've ever seen. Very highly recommended.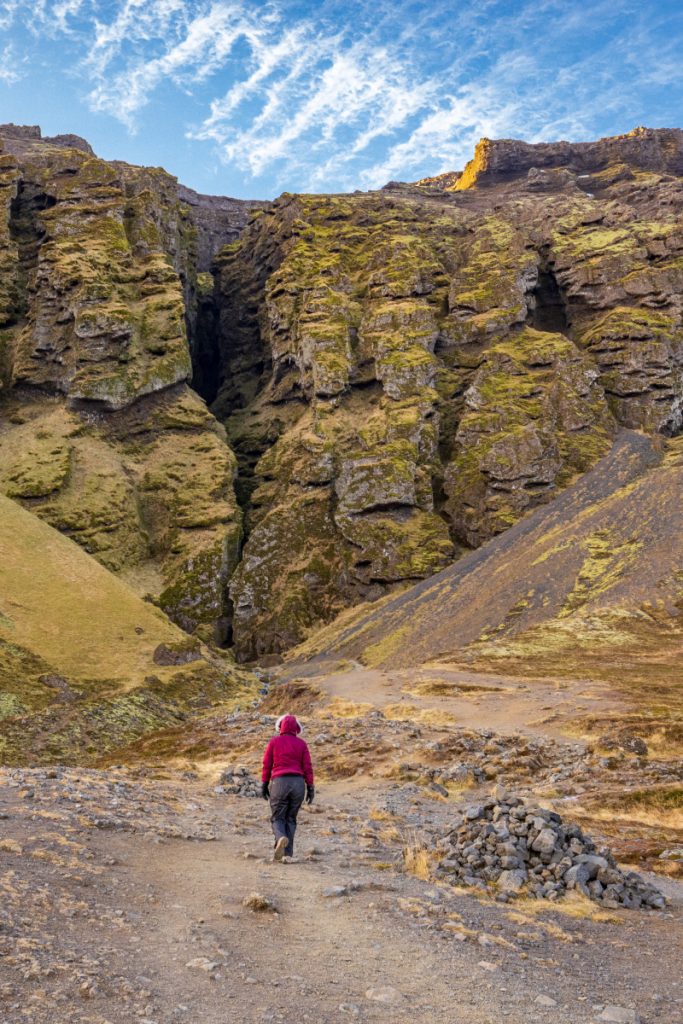 Bring your waterproof clothes and boots to this tight, icy gorge. You can walk a few hundred feet into the gorge. Mind your feet – you'll be stepping in running water! Highly recommended.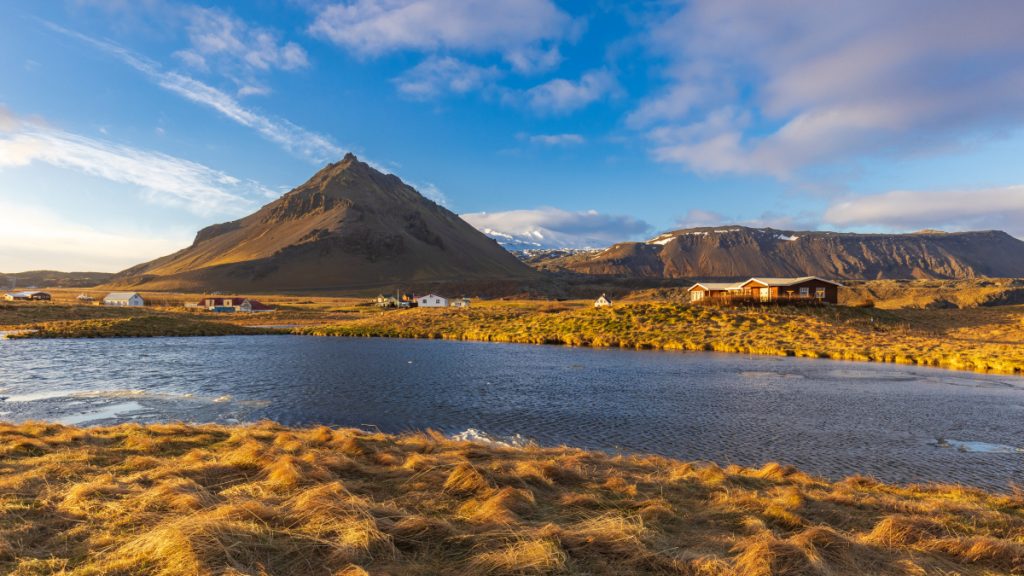 We were originally going to do the short hike to Stone Bridge, but decided to only go a few hundred meters down a trail in Arnarstapi. Beautiful, but skippable.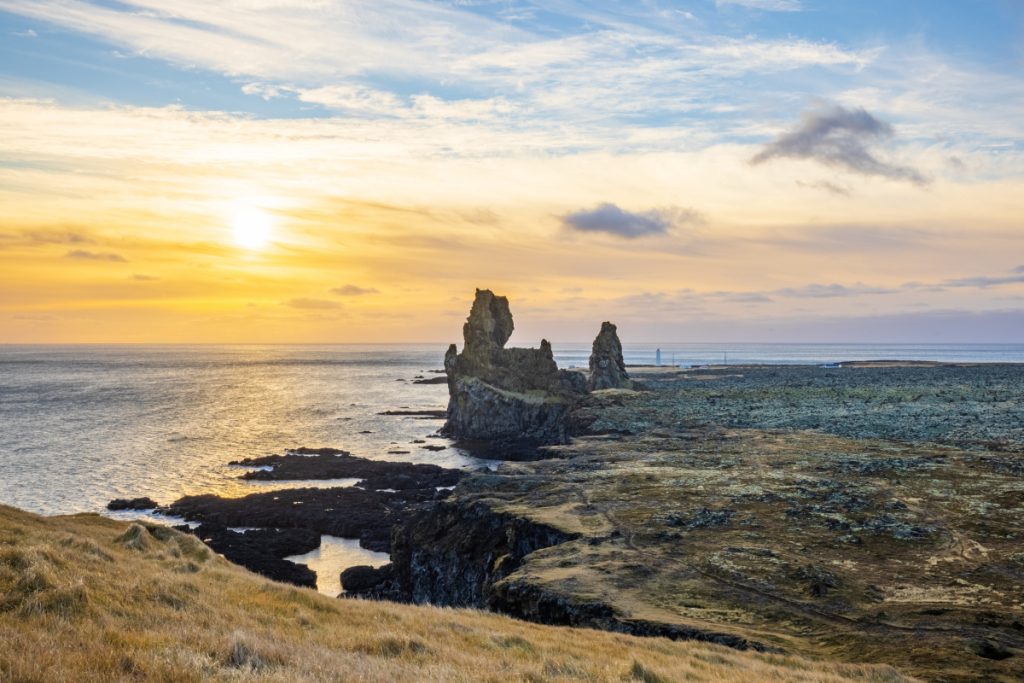 A short walk up a paved path leads to a viewpoint of the rock formation Lóndrangar. Beautiful, but skippable.
After paying a small fee to park, walking up a short, accessible path yields a spectacular view of Kirkjufellsfoss and Kirkjufell, two of the most-photographed landmarks in all of Iceland. Beautiful, but mind the crowds.
We arrived at Fosshótel Stykkishólmur, our hotel for the night, at about 17:30, where we ate dinner and fell asleep.
Day 4 – Nov. 03 – Víðgelmir Cave, Hraunfossar, Öxarárfoss
After another buffet breakfast at Fosshótel Stykkishólmur, we started our drive towards Víðgelmir Cave Center at 08:15. We spent a significant portion of this drive on unpaved, 80kph gravel roads, along which we stopped to take photos with some Icelandic horses: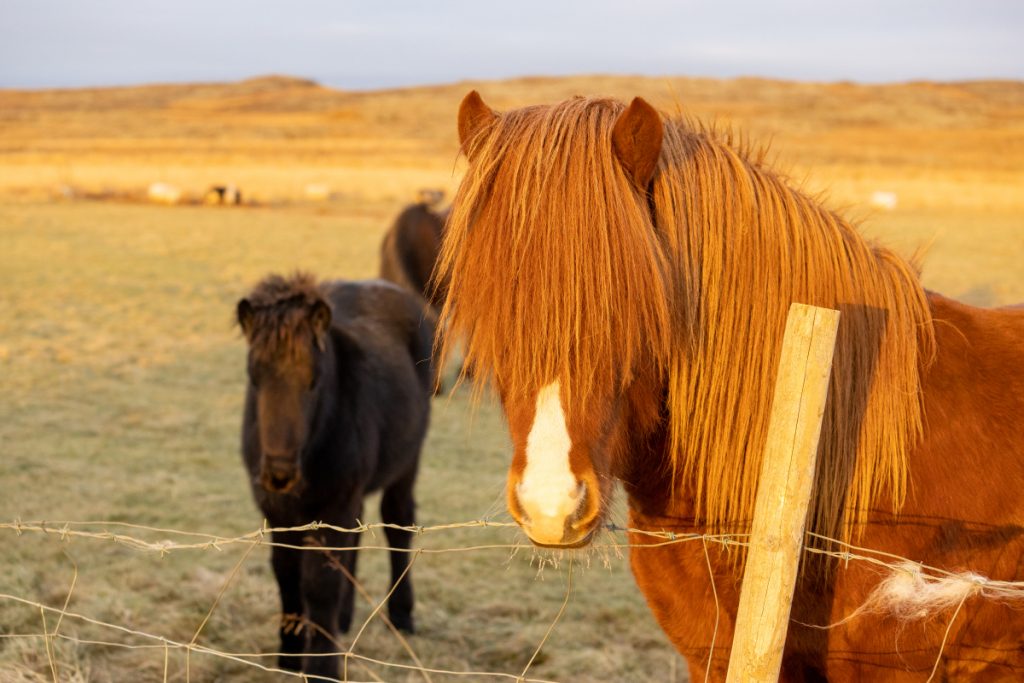 We arrived at The Cave for our 11:00 tour led by a British fellow named Will, who was fantastic and answered all of my curious questions. The tour of the lava tube cave was also fantastic. I especially loved the moment where we all turned our lights off and sat in absolute darkness and silence for a few moments.
During the tour, Will told us about a waterfall nearby which was the outlet of all of the water which flowed on top of the bedrock beneath the Víðgelmir Lava Tube Cave and the lava fields surrounding it. We had to see this waterfall, and I'm so glad that we did. Hraunfossar was gorgeous, and knowing the source of the water made it even more magical. We stopped at Hraunfossar for about an hour, starting at 13:00.
After Hraunfossar, at 14:30, we stopped at a grocery store and cafe to refuel on late-lunchtime snacks. The cafe at which we stopped happened to be the same cafe dressed up as a Papa John's in this scene in The Secret Life of Walter Mitty – a movie which I dearly love.
The long drive ahead took us through Thingvellir, a national park known for being the site of Iceland's parliament from the 10th to 18th centuries. This was our first experience with Icelandic snow – conditions on the roads of Thingvellir were safe, but certainly not ideal.
At 16:30, as the sun disappeared among the clouds, we stopped at Langistígur and Öxarárfoss, which were used as filming locations in Game of Thrones (and I can see why). This was one of my favorite stops along the trip – check out that icy waterfall!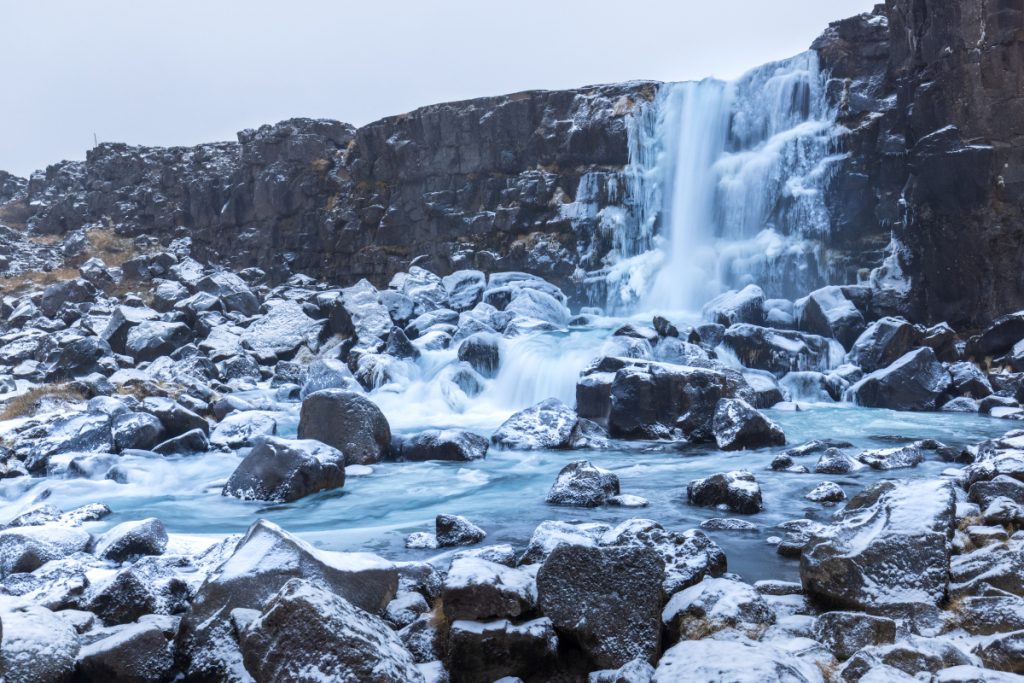 Our accommodations for the night were located at Hotel Geysir, by far the most luxurious of the hotels at which we stayed. By the time we arrived, the sun had long since set, so we were unable to see the nearby Geysir erupt (which happens every 5-10 minutes) – although we did hear it!
At this time, Liv and I registered to take a rapid COVID test in Reykjavik on the morning of our flight home. All people on flights entering the US need to have negative rapid or PCR test results available to show.
We ate a delicious dinner – it was my first time having Arctic Char, which I loved! – and passed out for the night.
Day 5 – Nov. 04 – Gullfoss, Mýrdalsjökull Glacier Snowmobiling, Reynisfjara Beach
We woke up before the sun rose at around 07:30, ate breakfast, and drove a quick 10 minutes up the road to Gullfoss, "the Niagara Falls of Iceland." It's a beautiful, two-tiered waterfall. During some seasons, people can get quite close to the edge of the falls, but that trail was closed when we were there.
We couldn't stay long, as we had a 2-hour drive ahead of us to our next destination. At 11:40, we arrived at Arcanum Adventure Tours – Mýrdalsjökull Base Camp where we geared up to snowmobile on Mýrdalsjökull Glacier with 17 other tourists (!).
A huge, powerful vehicle drove us for 30 minutes up some very rocky roads where our snowmobiles waited for us.
After a short instructional session, Liv and I chose our snowmobile – the one right behind the leader. I find guided tours to be significantly more enjoyable when I'm right behind the tour guide, as I'm able to ask more questions, get to know the human, and am usually not stuck waiting behind someone slower than me. The "not getting stuck" piece was critical this time around, as the fifth snowmobile in line was extremely slow, forcing our guide to frequently stop and check on them.
I had never previously driven or ridden a snowmobile, and it was a blast. It reminded me of driving a PWC but with different handling dynamics.
Shortly after we got on our vehicles, we entered a whiteout, and remained in one for most of our tour. While I certainly would have enjoyed seeing the sights from the top of the glacier, driving a snowmobile through whiteout conditions with only the dim taillight of the group leader to guide me was one hell of an experience. At some points, I couldn't tell that we were moving at all; there was absolutely no visual frame of reference to guide me.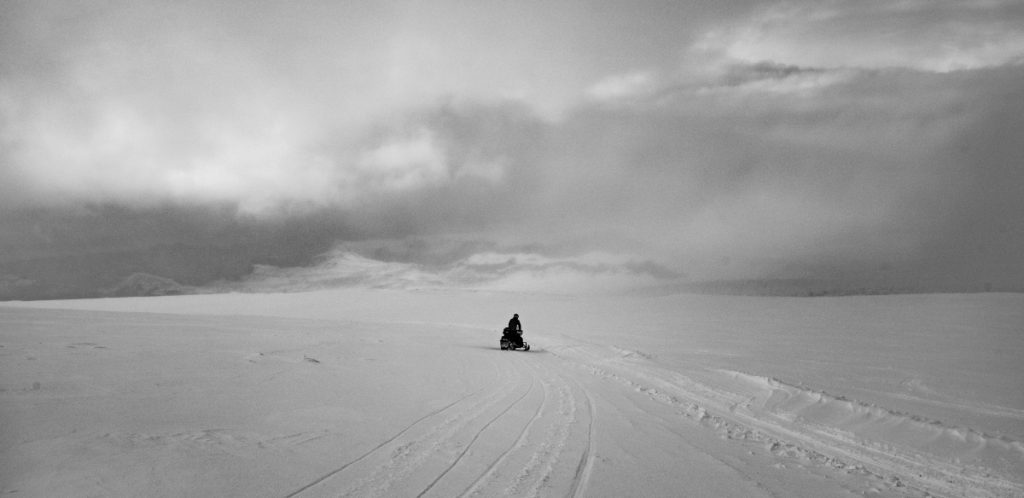 The snowmobile tour lasted about 2.5 hours, including the vehicle ride up and down to/from the base of the glacier. We learned a bit about glacier formation from our tour guide. I could tell he had significantly more to say, but our slow fifth driver and the poor conditions meant that we didn't talk at the top for very long.
At 14:45, we got back into our RAV4 and headed to Reynisfjara Beach, a famous black sand beach (and also another Game of Thrones shooting location). We spent about 45 minutes enjoying the sights and sounds and smells, and avoiding the powerful "sneaker waves" which have killed several tourists.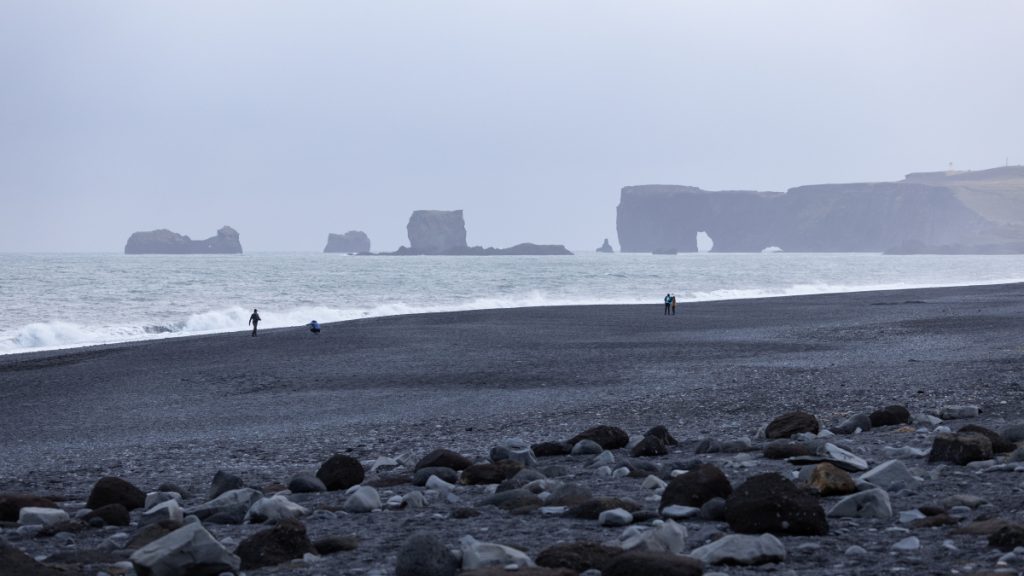 At 18:15, we stopped in Vik to get Liv some new gloves and to get some snacks (Icelandic chocolate is very yummy).
Then, we headed on to our hotel for the night, Hotel Katla, where we ate a delicious buffet dinner (we were so hungry – and there was arctic char!). Hotel Katla felt like the most secluded and rustic out of all of the hotels in which we stayed.
We spent about 45 minutes driving up a treacherous dirt road to an extremely dark and secluded area in an attempt to spot the Aurora Borealis, but some clouds kept us from seeing much of anything. We still had a great time driving up that scary path and looking at the stars, though.
Day 6 – Nov. 05 – Svartifoss and Vatnajokull Glacier Hike
This day was one of our favorites.
We woke up at around 07:30 and started the drive to a trailhead leading to Svartifoss. On the way, we stopped briefly at an expansive lava field, which wasn't all that special. We paid the 700 ISK to park at the Skaftafell Visitor Center and began the 3.9km (2.4mi) round-trip hike to Svartifoss.
We were cruising on this steep hike, motivated by a small time crunch – we had two hours to do the hike before needing to meet our glacier hike guide at the Skaftafell Terminal at 13:45.
The glacier hike tour we took on Vatnajokull Glacier was the highlight of our trip for me. We hiked for about 30 minutes to get to the base of the glacier, at which point we put on some crampons and began walking up the glacier.
Except…upon taking literally the first step onto the glacier, my right crampon broke. One of the metal pieces holding the crampon together snapped straight off. "That has never happened so early," our tour guide, Pascal, exclaimed. He let me keep the broken metal piece as a souvenir. Luckily, Pascal was carrying spares, and I cramped on again and we set off on the most spectacular hike: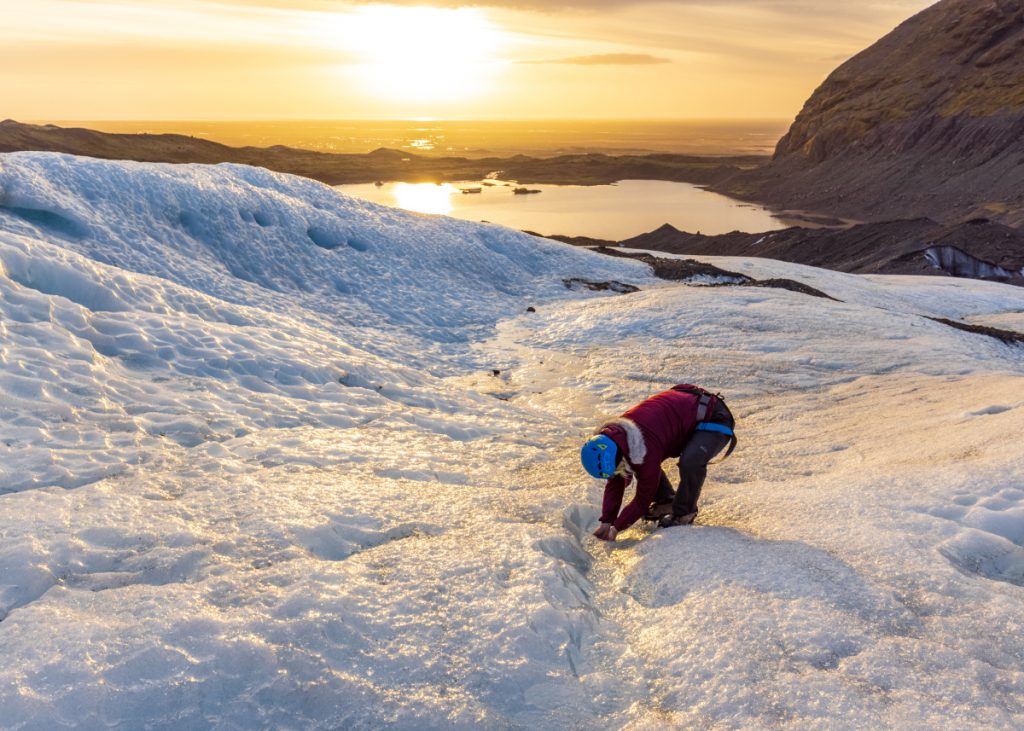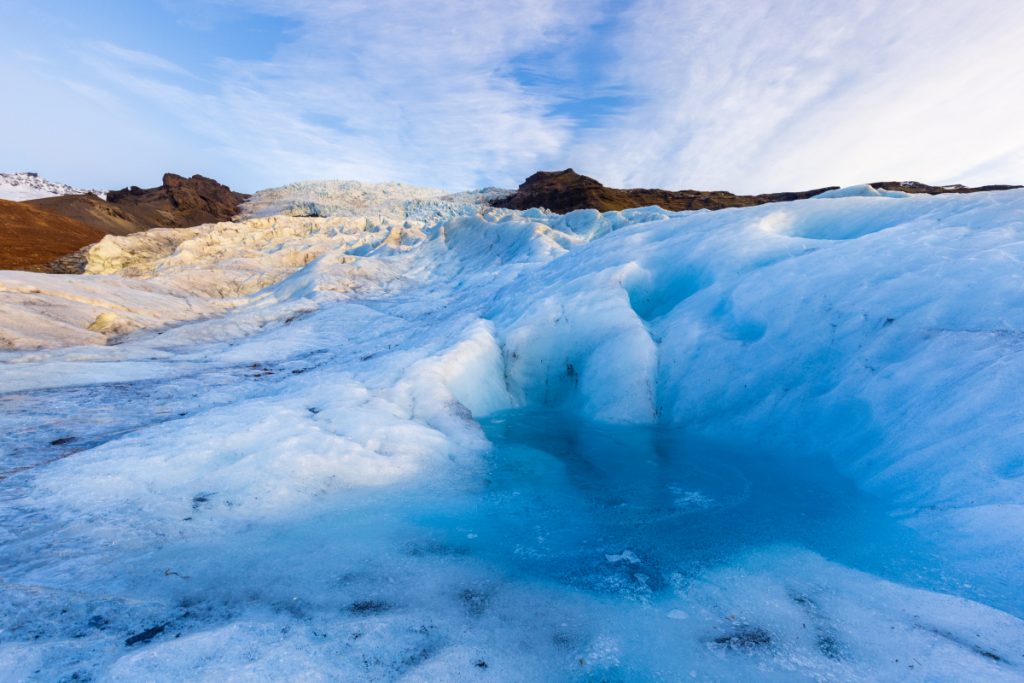 Our hike off of the glacier and back to the car included a long conversation with Pascal, where I learned that he plays violin in an orchestra which performs songs for various Netflix shows and movies, including Katla. How neat is that?
Overall, the glacier hike took about three hours. Exhausted and happy, we ate a delicious dinner and spent the night at Fosshótel Glacier Lagoon, a gorgeous, secluded, and relatively new hotel.
Day 7 – Nov. 06 – Ice Cave Tour & Return to Reykjavik
We awoke this day to cloudy skies, sleet, and 105kph (65mph) gusting winds – but our ice cave tour was not cancelled! After the best breakfast buffet of the trip, we drove to Jökulsárlón Glacier Lagoon where we met up with our ice cave tour group led by a veteran Reykjavik native who had been leading tours for almost 20 years.
Forty-five extremely bumpy minutes and a megabus ride later, we arrived at the Breiðamerkurjökull glacier trailhead. It was 10:00 and we were cold and wet, but we hiked the mile in to the ice cave, where we were met with some pretty spectacular – if crowded – sights: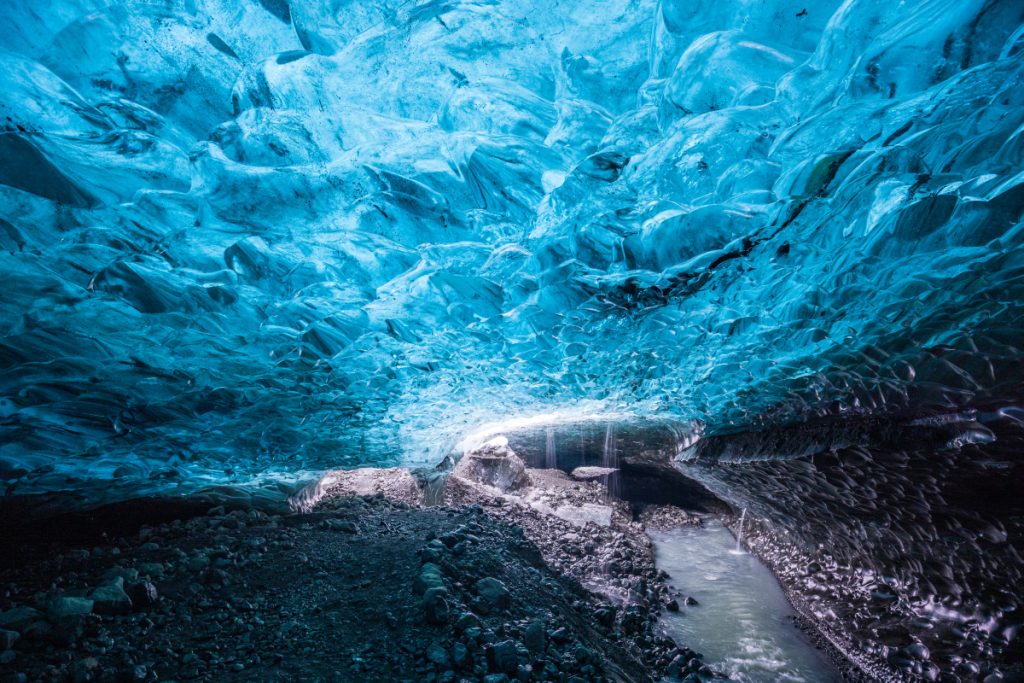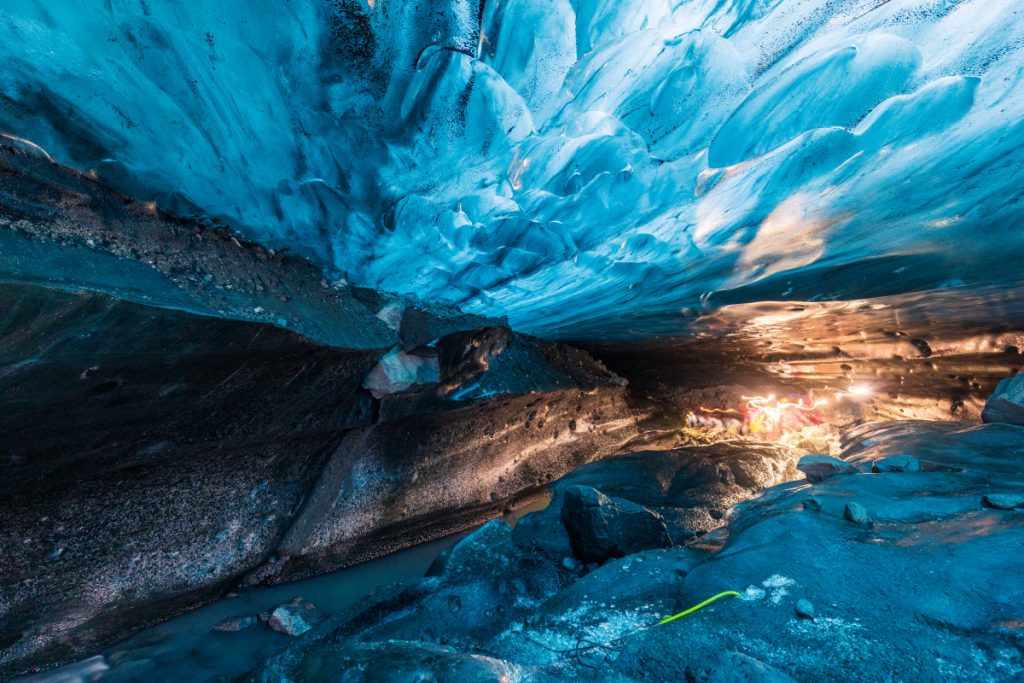 If that's what the ice cave looked like with cloudy skies, I would have loved to see the way they looked in the bright sunlight. The light blue of the glacial ice was unlike anything I'd ever seen before. I do wish that the tour were less crowded, though – the large quantity of people packed into this ice cave definitely detracted from my enjoyment of the tour.
We returned to our car at 13:00, at which point we began the blustery (but otherwise uneventful) five-hour drive back to Reykjavik. We parked at Storm Hotel, the lodging for our final night in Iceland.
Our final dinner in Iceland was my favorite meal in the country. Our 20:00 dinner reservation was at Sjávargrillið, where I ate vegetable tacos, lamb, and raspberry sorbet. Delicious.
Day 8 – Nov. 07 – COVID Test, Fish & Chips, Flight Home
We took our rapid COVID test at 10:30am (Negative! Yay!) at a clean testing facility in Reykjavik, and then we returned once more to Cooking Harmony to get a gluten-free layer cake for home.
We checked out of Hotel Storm and drove to a bar which served my favorite Fish & Chips of all time: Íslenski barinn (literally "Icelandic Bar"). The fish was battered and fried to perfection, and it contained a bit of curry between the batter and the fish. The waffle fries were the perfect amount of crispy, and the tartar sauce gave everything a nice kick. YUM! Also, Liv ate the best sweet potato fries she's ever eaten.
It was then time to leave for the airport. We painlessly returned our car to the MyCar office and took its shuttle to KEF, where we then boarded our uneventful Washington-bound flight. I watched The Prestige on the plane. I love The Prestige.
The boarding process at KEF was frustrating: Four flights were boarding at the same time, and everyone was lined up in a 10-foot-wide corridor, squishing each other in an attempt to board. We must have just gotten unlucky that day – I'm sure it's not that bad all the time.
Anyway, after our flight, we collected our car in Washington and drove home, exhausted and very happy to be back after such a wonderful adventure.
Conclusion
Thank you so very much for reading through my recollection of our wonderful Icelandic vacation. I hope that you learned something or that this post helped you plan your own dream vacation.
Please leave me a comment below if you have any questions about our trip.