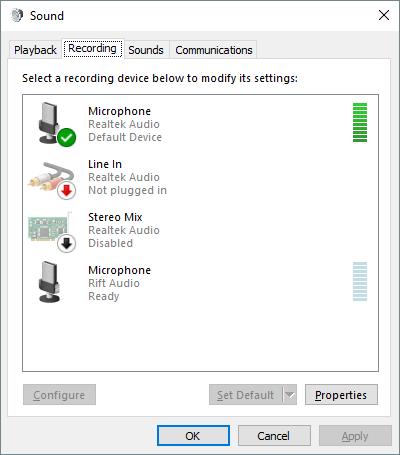 It's quite difficult to settle on comfortable audio input/output settings from within Windows. All audio hardware is different, and there are many factors that play into how audio playback sounds to your ears and how your microphone input sounds to others. This is a guide to setting up your audio devices to achieve maximum comfort for you and your listeners.
I work at a VR company called High Fidelity, where audio I/O is critical to a powerful experience. Our audio spatialization technology is designed for maximum immersion and realism. If one person is speaking so loudly that they are causing audio distortion, while another person's microphone is set such that they are extremely quiet, everyone in the virtual space will find themselves in an uncomfortable and unpleasant situation.
While this guide is focused on making sure High Fidelity on Windows sounds good, these concepts can be used to tune your I/O settings for maximum comfort across all applications.