Last June, I purchased an LG 47LM7600 Passive 3DTV for use as my PC monitor, and I absolutely love the 2D and 3D picture quality of the set in general. Using Nvidia's 3DTV Play addon (purchasable here) to play games in 3D caused an unacceptable negative impact on 3D picture quality. Activating Nvidia's 3D Vision utility for passive 3DTVs known as 3DTV Play forced me to run games at 720p @ 60hz in games, and caused color bleeding and other negative artifacts. However, I've come across a fix that's worked perfectly for my LG 47LM7600 on both Windows 7 and Windows 8 and should work perfectly for other similar passive 3D sets.
This fix takes advantage of my TV's ability to display applications in 3D when every other line corresponds to a single eye's view. This is also known as an "interlaced" picture. After the fix, I can run 3D applications at 1080p @ 60hz without any color bleeding or other artifacts!
The first part of this fix implements an EDID Override, which tricks Nvidia's drivers into thinking you have a passive Acer 3D monitor. The second part of this fix (which may be specific to my TV) involves swapping the left and right eye views within the registry. Without this swap, the display of all applications in 3D will be corrupted.
Let's get started!
First, download this INF driver file, which will be used to trick your PC into thinking you have a passive 3D Acer monitor: Acer HR274H 3D Monitor EDID Override
Important Notes – This particular INF is ONLY for passive LG 3DTVs! To find out how to create a custom driver for your model of passive 3DTV, please check out this forum thread. Also note that this fix will disable audio over HDMI. You can check out that forum thread to learn about a fix for this issue.
Install the INF.
Extract the contents of the ZIP you just downloaded to some folder.
Open Device Manager by opening your Start Menu (or start screen) and typing "Device Manager," then press enter.
Expand thee "Monitors" category.
Right click the currently installed monitor under the "Monitors" category and select "Update Driver Software."
Click "Browse my computer for driver software."
Click "Let me pick from a list of device drivers on my computer."
Click "Have Disk…" toward the bottom right of the window.
Browse to the location of the INF file you extracted in Step 1, then press OK.
Press "Next," then "Install This Driver Software Anyway."
Reboot!
If you run into driver signature problems, you'll have to disable driver signature enforcement. To do so, perform a Google search for "disable driver signature enforcement <Your OS>," and follow the steps you find.
You're halfway done! Once your computer has rebooted, open the Nvidia Control Panel and click the "Set up Stereoscopic 3D" category on the left side of the window. You may be automatically thrust into a setup wizard – that's fine, just follow the on-screen directions. You will note that Nvidia reports your "Stereoscopic 3D Display Type" as "Acer Passive 3D LCD" – this is good! If it isn't already, check the box next to "Enable stereoscopic 3D" to turn 3D on for all games.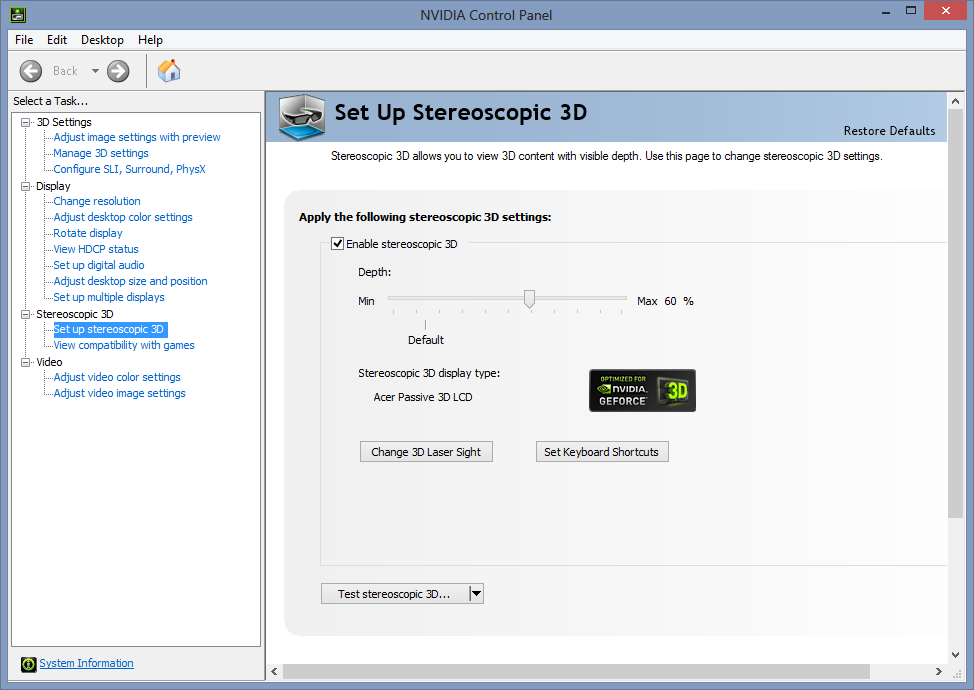 Boot up a 3D game or application, 3D glasses at the ready. Once you're in the game, put your glasses on. If 3D isn't on, press "Ctrl + T" to activate it.
Sweet! At this point, you may be done! If you notice that your 3D is displaying weirdly, you may need to continue to the next step to swap left/right eye order. If the application looks amazing, congratulations! You're done!
Registry Edit – Swapping Left/Right Eyes
Open the registry editor by opening your Start menu/screen and typing "regedit," then pressing enter.
Navigate to HKEY_LOCAL_MACHINE –> SOFTWARE –> Wow6432Node –> NVIDIA Corporation –> Global –> Stereo3D
Double-click the key "InterleavePattern0." Change the value data from "00ff00ff" to "ff00ff00"
Double-click the key "InterleavePattern1." Change the value data from "00ff00ff" to "ff00ff00"
We need to prevent the driver from attempting to revert these values. Right-click the "Stereo3D" folder on the left, then click "Permissions."
Click "Advanced."
Click "Add."
Click "Select a principal"
Type "SYSTEM" and press OK.
Under "Type," select "Deny."
Check "Full Control."
Press OK until you're back at the registry editor.
Close the registry editor.
Reboot.
At this point, you should be totally set! Your 3D applications should look amazing, and significantly better than they did under 3DTV play or other 3D methods.
Good luck! Leave me a comment if you have questions or problems.